Girl had 'underage sex with Telford prostitution accused'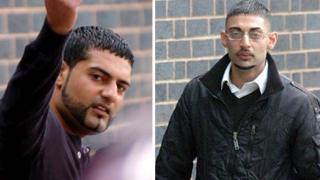 A teenager who is alleged to have been forced into prostitution by two Shropshire brothers had underage sex with one of them, a court has heard.
Now aged 19, the alleged victim told Stafford Crown Court she had sex with Ahdel Ali before she had turned 16.
Mr Ali, 24, and Mubarek Ali, 29, both of Regent Street, Wellington deny a total of 26 charges involving four teenage girls.
The offences are alleged to have taken place from March 2008 to December 2009.
The first witness in the case, who addressed the jury from behind a screen, said she had also had sex with Mubarek Ali, but only after she had turned 16. It was also alleged that both men had given her cannabis.
The teenager told prosecutor Deborah Gould her life was "a bit of a mess" by the end of 2007, after being involved in acts of dishonesty, including shoplifting.
'Sitting in car'
She first met Ahdel Ali, who she knew as Eddie, earlier that year and was taken to the Hortonwood area in Telford, the court heard.
The witness said she met him again a year later in the centre of Wellington, Telford.
She told the court: "He was sitting in the car with his brother.
"Eddie called me - he just shouted my name."
The jury heard the teenager then drove with Ahdel Ali to a derelict school and had sex after parking up.
Ahdel Ali denies one count of rape, 11 charges of sexual activity with a child, three charges of controlling child prostitution, two of inciting child prostitution, an allegation of inciting a child to engage in sexual activity and meeting a child after grooming.
Mubarek Ali has pleaded not guilty to four charges of controlling child prostitution, two of trafficking in the UK for sexual exploitation and a charge of causing child prostitution.
The trial continues.