Porthill Bridge in Shrewsbury to re-open 'a week early'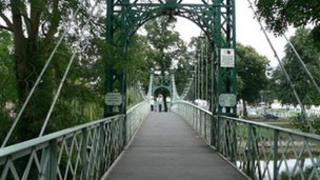 A footbridge closed for "essential" repairs in March is expected to re-open a week early.
Shropshire Council said work on Porthill Bridge, in Shrewsbury, was estimated to cost about £550,000.
Most of the work, which included repairs to the steel structure and the replacement of its wooden deck, has been completed.
It is expected to re-open on 13 July. Pedestrians and cyclists have been using diversions and a ferry service.
Simon Jones, the council's cabinet member responsible for bridge maintenance, said: "I am pleased that [the bridge] is progressing ahead of schedule and everyone involved will continue to do all that they reasonably can to re-open the bridge as soon as possible."