Telford restaurant workers 'paid for sex' with teenager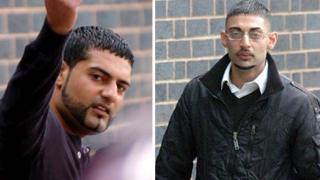 A teenager who alleges she was forced into prostitution was taken to have sex with workers at two restaurants and a fish and chip shop, a court has heard.
The 19-year-old told Stafford Crown Court she was sold as a child prostitute by Telford brothers Ahdel Ali, 24, and Mubarek Ali, 29.
The pair, both of Regent Street, Wellington, deny a total of 26 charges involving four teenage girls.
The offences are alleged to have taken place from March 2008 to December 2009.
The teenager gave her evidence behind a screen and told the jury that, after turning 16, she was taken to have sex with men up to four times a week.
She first met the defendants, Ahdel Ali, who was known as Eddie, and Mubarek Ali, who she knew as Max, when she was aged 15.
The teenager alleged that Mubarek Ali and two other men took her to the Lal Komal restaurant in the Oakengates area of the town where a number of workers lived upstairs.
'They gave money'
She told the court: "Max would go and talk to the men while I was in the car with the other two men.
"Max would then tell me to go inside. They gave him money for me to have sex with them.
"There were two men the first time and I had sex with four people another time."
The teenager said she had been taken to the restaurant as many as seven times.
The jury then heard that she was also sold as a prostitute at the Dhaka Tandoori restaurant in Wellington and Thiara's Fish Bar, Hadley.
Ahdel Ali denies one count of rape, 11 charges of sexual activity with a child, three charges of controlling child prostitution, two of inciting child prostitution, an allegation of inciting a child to engage in sexual activity and meeting a child after grooming.
Mubarek Ali has pleaded not guilty to four charges of controlling child prostitution, two of trafficking in the UK for sexual exploitation and a charge of causing child prostitution.
The trial continues.