Alveley couple remember 'once in a lifetime' floods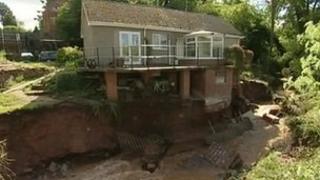 "Nothing's been easy here.
"Maybe I miss the sound of the waterfall, but I'm glad it's gone, otherwise I would be terrified it would happen again."
When flash floods washed away Ray and Diann Scriven's garden five years ago, in Alveley, Shropshire, it put at risk a house built with their own hands, more than 40 years earlier.
The same floods washed away a road two miles away in Hampton Loade, isolating 50 people, and caused a landslide on a nearby section of the Severn Valley Railway, leaving tracks suspended in mid air.
Since then, about £10m has been spent by the Environment Agency in Worcestershire and Shropshire on flood alleviation projects.
Set on the site of a former paper mill, Mr and Mrs Scriven's home featured a brook and a 250-year-old waterfall, which once powered the mill.
"I grew up in the village and used to come here as a girl. I think I was drawn here by the water. I used to tell my mother that one day I'd live at the old paper mill," Mrs Scriven said.
Normally placid and picturesque, on the night of 19 June 2007, two weeks' worth of rain fell within 45 minutes. Local firefighters dealt with 136 calls overnight.
"We were were out at the time. We were babysitting for our eldest daughter. We'd heard a bit of rain, but didn't realise it was so bad," Mrs Scriven said.
The 15-mile journey home took two hours.
When the couple got back, the brook was "a mass of water" and the waterfall itself had been destroyed.
New house
In the early hours of the morning, Mrs Scriven woke up to find the water level had dropped, taking with it a patio area and threatening to tear their conservatory away from the house.
The home, named Ravine Falls, was left "teetering on the brink" of a gorge some 15ft (4.6 metres) deep.
Emergency attempts to secure it with 10 tonnes of concrete failed as it too was washed away.
It took 12 months for repair work to start and another year to complete.
"We were told it would be cheaper to build a completely new house, but we wouldn't want to live anywhere else," Mr Scriven said.
The repairs cost about £220,000, which was covered by their insurance.
The couple described it as a "once in a lifetime" flood and said the defences put in place by insurers meant they now felt safe.
'Flooded 12 times'
According to Worcestershire flood consultant Mary Dhonau insurers are likely to be less generous in future.
A deal between insurers and the government currently means high-risk homes are covered, while the Department for Environment and Rural Affairs (Defra) funds flood protection schemes.
The agreement is due to end in June 2013 and, despite ongoing talks, a new deal has yet to be reached.
In Shropshire alone, nearly 5,000 homes are at risk of a one in 100 years flood, according to the Environment Agency.
Across the UK, some 5.5 million people live with the risk of flooding, Ms Dhonau said.
Living down-river in Worcester, her own house was affected by flooding in 2007, which saw raw sewage floating around her living room.
"I've been flooded 12 times, but by 2007 I'd made my house more resilient and I was back in it within three weeks," she said.