Shropshire Council reduce planned pay cut for staff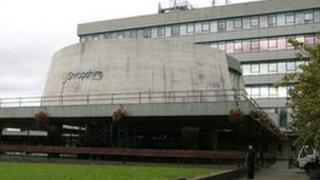 Thousands of Shropshire Council workers facing a pay cut have been told it will be less severe than first thought.
Staff pay was cut by 2.7% last year and, after talks between the authority and unions, a second cut in October was expected to be capped at 1.9%.
The Conservative-led authority, which employs about 6,500 staff, said other savings meant workers would now see their pay cut by 1.7%.
Trade unions have welcomed the decision.
'Very difficult time'
Chris Humphreys, from the GMB union, said: "We believe that this is the best result we can hope to achieve for our members in this current climate."
Unison branch secretary Alan James described the news as "a positive step forward for our members at a very difficult time".
Shropshire Council said it needed to save £86m by 2014, due to government cuts.
Council Leader Keith Barrow said the reduction was "about as good as we could have done" under the circumstances.
He added that for many workers earning little more than minimum wage even a small cut could have a large impact.