Porthill Bridge in Shrewsbury reopens after repairs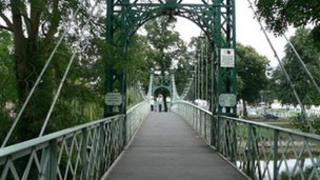 A Shropshire footbridge closed for "essential" repairs earlier this year is to reopen later.
Work on Porthill Bridge, which spans the River Severn in Shrewsbury, was estimated to cost about £575,000, Shropshire Council said.
The refurbishment included repairs to the bridge's steel structure and wooden deck and painting work.
Pedestrians and cyclists have been using diversions. A ferry service which was also used will cease operations.
Simon Jones, the authority's cabinet member responsible for bridge maintenance, said: ''This was essential work which needed to be carried out to enable the bridge to remain open in the long term.
"I'm really pleased that, despite the wet spring, the bridge will be reopened a week ahead of schedule."