London 2012: Much Wenlock's Cultural Olympiad dome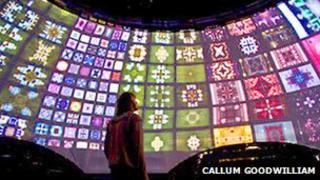 Construction has begun on a 68ft (21m) dance dome in Shropshire as part of the Cultural Olympiad.
The structure at William Brookes School in Much Wenlock will feature live performers and 360-degree digital images.
The performances, from 14 schools and community groups across Shropshire, are part of the Dancing for the Games programme.
Much Wenlock is acknowledged as being a birthplace of the modern Olympics.
The town's games inspired Baron Pierre de Coubertin who subsequently founded the International Olympic Committee (IOC) in 1894.
Royal Ballet
Dancing for the Games aims to get the people of the West Midlands dancing to celebrate the London 2012 Olympic and Paralympic Games.
Professional dancers Sonia Sabri and Anna Belyavin have been working for two weeks at the school.
Artistic director Toby Norman-Wright was a member of the Birmingham Royal Ballet, he said: "Everything has been generated by the pupils. It's a really good way of working and really good to have a variety of content."
About 20 pupils, including international students from Norway and Austria, will accompany an Encompass 360 Digital Dance film with 19ft (6m) high images of digital dancers.
The project involves social media, using films of people who had danced live in front of webcams. This resulted in 200 international filmed entries that made up a dance, using digital artistic and green screen technology.
Mr Norman-Wright said: "You're not just watching on a stage sat in darkness as you do in other productions.
"In the dome you're in it and it's around you and above you - you are a part of it."
The dome will be built ahead of performances between 19 and 21 July.