Ditherington Flax Mill revamp moves forward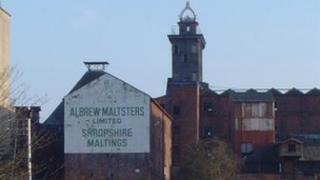 The next stage in the redevelopment of a Grade I listed Shropshire mill is due to take place with the appointment of a project manager.
Ditherington Flax Mill in Shrewsbury was built in 1797 and has received initial support in a bid to secure £12.1m from the Heritage Lottery Fund.
In May, the mill was awarded £465,300 of development funding, which will pay for the post and other work.
The manager will oversee work ahead of the second Heritage Lottery Fund bid.
It will be submitted within the next 18 months in the hope of securing a further grant of about £11.7m.
The building became a flax mill in 1886 and features seven listed buildings.
The mill, which has been derelict since 1987, includes the first iron-framed building in the world, which is regarded as the forerunner to the skyscraper.
English Heritage hopes to eventually restore the buildings, including the main mill, the kiln, dye house and stove house.
Long-term plans for the site also include public access areas, as well as commercial and business use.