Shropshire farmers question future of dairy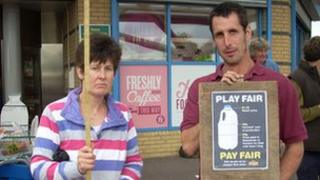 "Supermarkets don't have any respect for milk," says former dairy farmer Martin Jones.
The 63-year-old says falling milk prices forced him to sell his dairy herd in 2010 after almost 40 years of farming near Pontesbury, Shropshire.
He was among about 20 farmers and supporters protesting outside Morrisons' Shrewsbury store against the price supermarkets pay for milk.
Hundreds of farmers have also blockaded milk processing plants across the country, angry at latest cuts of up to 2p a litre.
David Evans, 47, who also farms near Pontesbury, said low prices were even changing the face of Shropshire's countryside.
He said small family farms were either having to expand or die.
'No future'
"From our family farm you used to be able to see eight dairy herds. Now there are just two, but they are much larger than anything that used to be here," he said.
For Richard Downes, 31, who has worked full-time on his family's farm at Longnor ever since he left school at 16, the future is even more uncertain.
"We want to be farming for life. It's not just a job, it's a way of life," he said.
But with his wife due to give birth to the couple's first child on Friday, he said he was having to seriously consider if the farm could support the latest generation.
"We're going to give it until Christmas and if things don't get better by Christmas we're going to have to seriously consider leaving the industry, because we can't afford to produce milk at a loss all the time," he said.
"It's that tight. Every litre we're selling is at a loss, so you can't go on for ever.
"We've been bringing our production costs down for the last five years, but the costs keep being pushed to the dairy farmer.
"We're milking 150 cows now. We invested almost £500,000 five years ago to increase our herd [from 70] for the future, for my young family, and there isn't a future now."