Shropshire dairy farmer faces 'bleak' future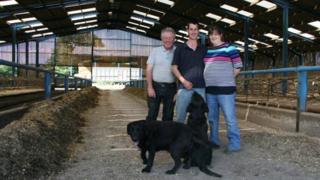 While dairy farmers across the country protest against proposed cuts to milk prices, one Shropshire farmer has said his family business could have just a matter of months to survive.
"It's pretty bleak. We've set ourselves until Christmas to see what the situation is," Richard Downes, 31 said.
"If it hasn't got much better by Christmas we're seriously going to consider selling the cows and try think of something else to do."
Next week four leading milk processors plan to introduce a cut of about 2p per litre to the price farmers receive.
They say the market price for dairy products has fallen severely over the last 18 months.
It is a far cry from when Mr Downes's grandfather bought the farm in Longnor, about 10 miles south of Shrewsbury, in the early 1940s.
Back then it supported seven or eight farmhands.
Today four members of the family farm 330 acres, employing just one other worker.
Technology and mechanisation have changed dramatically over the years, but Mr Downes said that too had presented its challenges in terms of raising investment.
'Give in'
Now he hopes there will still be a farm for the fourth generation of the family to take on.
Mr Downes's wife Charlotte, 29, is due to give birth to the couple's first child.
The daughter of a dairy farmer from Atcham, she said she understood what she was taking on.
"Everything's more of a struggle, there's more pressure, there's more financial burden," she said.
Currently every litre of milk produced on the farm is being sold at a loss, Mr Downes said.
"There's only so long before the bank thinks 'enough is enough' and we have to give in," he added.
"I feel very sad, because it's three generations worth of work here.
"It's not just a job, it's a way of life. We get up at five o'clock in the morning and sometimes it's 10 o'clock at night if we're busy harvesting.
"We don't mind it, because it's part and parcel of life."
A gamble
Five years ago the family spent more than £500,000 to improve the farm's efficiency and cut costs.
At the time it seemed a sound investment, but now looks increasingly like a gamble.
"We were only milking 70 cows five years ago and we either needed to go bigger or go out," Mr Downes said.
They sold off some farm buildings for property conversions and borrowed the rest of the money from the bank.
A new, larger milking parlour was installed, as well as a new shed and other equipment, while the herd size increased to 150 cows.
Mr Downes said the plan was to eventually increase the herd to 200 cows by breeding.
His father Mike Downes, 62, remembers a time about 25 years ago, when farmers received 16.5p per litre for their milk - but costs were much lower.
"I think back then grain [for feed] was £90 per tonne. Now it's gone up to £200 per tonne," he said.
Richard Downes said feed prices were set to rise even more, by about £70 a tonne, after drought hit soya production in the US.
Fuel prices have also gone up.
For both men, farming has been their lives. Like others in their business they started helping out on the farm almost as soon as they could walk.
But, despite their love of farming, a decision over the farm's future will be made with the head, not the heart.