Plans for more than 300 homes in Newport approved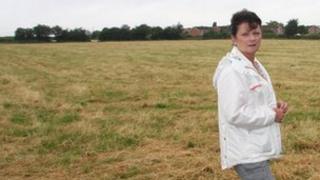 A plan for about 285 homes in a Shropshire town has been given the go-ahead by the borough council.
Nearly 500 objections were lodged against the plan for the new homes on fields off Wellington Road, Newport.
But planners advised Telford and Wrekin Council to pass the plans as too few affordable houses have been built in Newport.
At its meeting on Wednesday, the Labour-run council also backed plans for 34 new homes off Maynard's Croft.
The Wellington Road applicant will now be referred to Secretary of State Eric Pickles who requested to see approved documents to check whether he should determine the proposal.
The objectors to the Wellington Road plan had raised concerns over the scale of the development and the fact it is a green-field site.
'Done with care'
Marie Whitefoot, whose lives beside the site, said: "Newport is surrounded by pockets of land that could be used for this type of development before starting to attack such a beautiful piece of green pasture."
She said the high number of residents at the council meeting showed "there's a lot of fight in the town against these proposals".
The developer, HDD Newport Ltd, said it would meet the council's strategy for 35% of new homes being affordable units.
And the planners' report argued that green-field developments were "most likely" to meet the increasing need for affordable homes.
Mike Barker, the council's head of planning, said: "There's insufficient brown-field land to meet the housing need in the Newport area.
"And its certainly something that has to be done with care and not without consideration of what the alternatives and what the impacts are.
"And that's something that members of the council's Plans Board looked at last night."
The applications are among four which could lead to nearly 900 homes being built around Newport.