Shropshire girl, two, dies on family holiday in Spain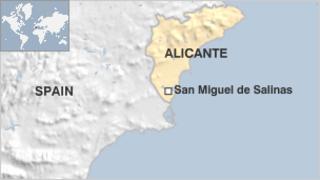 A two-year-old Shropshire girl has died after falling into a swimming pool while on a family holiday in Spain.
Isabella May Crump, from Ludlow, died after the incident at her great grandparents' villa in the Costa Blanca region on Wednesday, police said.
A member of the family said they had attempted to revive Isabella after finding her in the pool and were all "devastated" by the death.
The Foreign Office said it had offered consular assistance.
Isabella had been on holiday with her parents, Deborah Ridgway and Patrick Crump, and other members of the family at the villa in San Miguel de Salinas, near Alicante.
The girl's grandfather, who does not want to be named, said the incident happened on Wednesday afternoon after the family had gone back inside the villa.
He said: "At some point, Izzy has gone back outside unknown to everybody.
"She was only out of sight for a matter of moments.
"She was found in the pool and couldn't be revived.
"The entire family are totally heartbroken.
"The brightest light in our lives has been switched off.
"We need time as a family unit to console each other and to make arrangements to bring our little one back to the UK."
'Tragic circumstances'
Isabella's grandfather said members of the family were liaising with the British Consulate to make the arrangements.
"We would ask people to leave us alone to do this. This has just been the most tragic of circumstances and we need time to grieve," he added.
A number of the family have already returned to the UK.
Isabella's body will be brought back home with other members of her family "as soon as arrangements have been concluded with the Spanish authorities", police said.