Much Wenlock Museum visitors 'triple'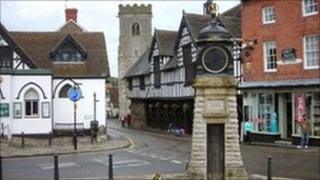 A museum dedicated to a town thought to have inspired the modern Olympics saw three times as many visitors last month than two years ago, tourism chiefs say.
Much Wenlock Museum in Shropshire reopened in February after undergoing a £520,800 revamp ahead of the London 2012 Games.
Shropshire Council said nearly 10,000 visitors came to the museum in July.
Emma-Kate Lanyon, of Shropshire Museums, said she had been "thrilled" at the level of public interest.
The museum's exhibits include the archives of William Penny Brookes, acknowledged as one of the fathers of the modern Olympics.
The Wenlock Olympian Society was founded in Much Wenlock in 1850 by Dr Penny Brookes, who started the town's Olympian Games.
Baron Pierre de Coubertin visited him, witnessed the games and subsequently founded the International Olympic Committee in 1894.
The mascot of the London 2012 Games was named Wenlock after the town.
Shropshire-based archer Alison Williamson, who competed for Team GB in the Games, carried the Olympic flame through Much Wenlock on 30 May.