Restoration work on Bridgnorth Grade ll-listed building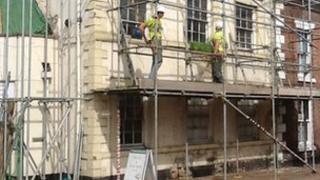 Restoration work has begun on a Grade ll-listed building in Shropshire.
The former Ridley Seed Merchants building on Mill Street, Bridgnorth, dates back to 1675 and is on the English Heritage at risk register.
House owner Denis Ridgway said there were no records of who built the house, but the person would have been "fairly important in his time".
Mr Ridgway said: "It needs to be used to keep it in the state that it deserves to be."
The restoration will cost £140,000, with 60% of the cost provided by a partnership fund from Shropshire Council and English Heritage.
Businessman Mr Ridgway said once restored the derelict property, which has been unused for 20 years, may be lived in by family or rented out as offices.