Dairy farmers give Muller UK milk price deadline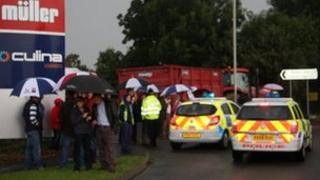 A group of dairy farmers say they have given food processor Muller UK until October to agree a better price for milk, after a meeting with the firm.
The company, based in Market Drayton, Shropshire, pays farmers a base price of 26.43p per litre.
The depot was one of several across England blockaded by farmers earlier this month.
Muller described a meeting with farmers on Thursday evening as "robust, but constructive".
A spokesman for Muller, which also owns Robert Wiseman Dairies, said "We confirmed that we will shortly be in a position to discuss details of an initiative agreed with farmers who supply the company which will hopefully lead to new recommendations on how farm gate milk could be valued in future.
'Very difficult winter'
"We believe that it is time to start to move on from what has been a very difficult period for the dairy supply chain and we welcome discussion which helps to achieve this end."
David Handley, from Farmers For Action, described the meeting as positive, but added "the proof of the pudding will be when they deliver a sustainable milk price to dairy farmers".
He said: "At the moment Tesco, Sainsbury's, Marks & Spencer and Waitrose are all paying in excess of 30p per litre.
"We have got to be getting to that figure before we contemplate we've got a success.
"By 1 October there's got to be money coming into farmers' milk cheques. It there's not, farmers face a very, very difficult winter."