Neen Sollars flood-damaged bridge repair work starts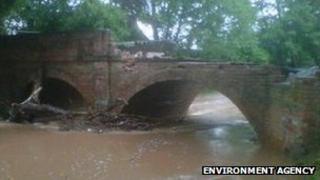 Work to repair a bridge badly damaged by floods in July has begun.
The Grade-II listed Rea Bridge in Neen Sollars has been closed to traffic since 14 July, when part of the structure collapsed.
A number of people, including a couple in their 80s, had to be rescued from floodwater in the village.
Chairman of Neen Sollars and Milsom Parish Council, Graham Wilkinson, said work was expected to last up to six weeks.
People living in two of the three homes evacuated are still living in temporary accommodation, Mr Wilkinson added.
The damage was caused after flash flooding led to the River Rea level rising 20ft (6m) higher than normal.
The repairs, which started on Monday, involve rebuilding the bridge walls and parapet, and repairing the road surface.
Villagers have said the closure had effectively split the community in half.
Pedestrians and cyclists have been able to cross the bridge, although drivers have faced a seven-mile detour.