Prince of Wales visits Ironbridge Gorge in Shropshire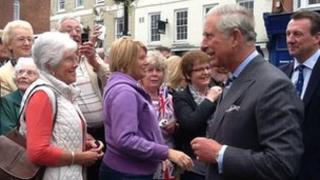 The Prince of Wales has unveiled a fountain at Ironbridge Gorge.
The prince has been visiting towns in Shropshire including Ludlow where he officially launched the work to create the town's Jubilee Garden.
After that, the prince visited charity In Kind Direct in Telford.
He then travelled to Coalbrookdale Museum of Iron at the Ironbridge Gorge to unveil the newly restored Boy and Swan fountain there.