Decommissioned Nimrod unveiled at RAF Cosford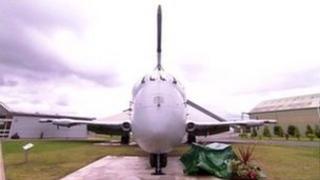 A Nimrod aircraft has been unveiled at RAF Cosford following its decommission.
The Nimrod R1, used for reconnaissance and gathering electronic intelligence, made its last flight last year.
The aircraft was transported by land to its new home in Shropshire from Costwold Airport in Kemble, Gloucestershire, in March.
An RAF Museum spokesman said the aircraft had served for more than 40 years and "played a hugely important part in the front line".
Director general of the RAF Museum, Peter Dye, said it had been a big job to get the aircraft, which has has a wingspan of 35m (115ft), to Cosford.
Mr Dye said: "We couldn't fly the aircraft in to the airfield directly - the runway wasn't long enough so it had to fly into Kemble in Gloucestershire and then be brought up by road.
"But given the size we had to dismantle it.
"That meant taking over 100 bolts out - bolts that had never been removed since the aircraft had been constructed so it was a huge undertaking.
"The clearance on some railway bridges was only a matter of millimetres and then they had to rebuild the aircraft."