Shropshire dairy farmer 'positive' about farm future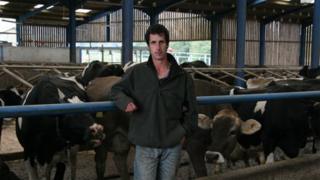 A Shropshire dairy farmer has said changes to milk prices due to come into force next week could make all the difference to the survival of his family farm.
Thirty one-year-old Richard Downes is the third generation of his family to farm in Longnor, 10 miles south of Shrewsbury.
In July, he was one of thousands of farmers across the country facing the threat of a two pence per litre cut in the price they receive for milk.
At the time, Mr Downes predicted that by Christmas he could be forced to sell the herd.
"It really was that bad. We're still struggling, but if we can weather the storm we should be OK. At least we're moving in the right direction," he said.
"We were down to as low as 23 pence per litre at one point in the summer, due to seasonal pricing."
Over the last two months, following a series of protests and even blockades of dairies, many milk distributors and processors have not only reversed a proposed cut, but increased the base price to about 29 pence per litre.
Describing the increase as a "positive" move, Mr Downes said he still faced a tough winter, with costs of production expected to be 32 pence per litre.
In an industry which has seen costs rocket and the value of its product tumble over the last 18 months, producing at less of a loss is welcomed.
Despite introducing efficiencies and increasing the size of his herd to about 150 cows, Mr Downes said many of the costs he and fellow farmers faced were out of their control.
Costs going up
"Obviously it's cheaper to keep the cows on grazed grass, but once winter comes and they're all in, they'll be on full winter rations," he said.
"Feed prices have gone up approximately £60 per tonne.
"Wheat's now going for £200 per tonne and that's due to wet conditions we've had in this country and the drought in America and Australia."
A wet summer in the UK has arguably had a bigger impact on farming - dairy, fruit and arable - than any other industry.
With feed costs going up, Mr Downes said he would also be forced to increase the volume of feed bought in over the winter, with the farm's ability to sustain its own supply badly hit.
Rain over the summer has meant a poorer quality of grass silage, and the farm's maize crop is also expected to produce lower yields when it is harvested in the coming weeks.
With costs still outstripping returns he said a difference of even two pence per litre could allow the farm to survive until the spring, when the herd returns to pasture, lowering overheads.
During the summer, Mr Downes said he had witnessed the "rare" sight of farmers coming together to lobby for a joint cause.