Arson attacks on cars in Telford: Nyle Keay convicted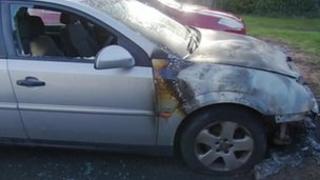 A 22-year-old man has been found guilty after a string of arson attacks on cars across Telford earlier in the year.
More than 20 cars were attacked, mainly in the Hadley and Leegomery areas, between 28 March and 11 April.
Nyle Keay, of Acacia Drive, Leegomery, was convicted on seven counts of arson and one of arson recklessly endangering life at Shrewsbury Crown Court on Tuesday.
He is due to be sentenced at the court the week beginning 13 November.