Telford mother thanks 999 fire officer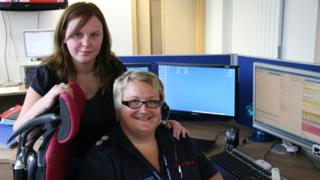 "I've got a chip pan fire. Me and my two children are in the back bedroom... there's too much smoke."
That is how a frantic 999 call to the fire service started from trapped Telford mother-of-two Estelle Guest.
On the other end of the call, just after midnight on 4 September, was watch manager Sandra Davies.
"On the headset I could hear the children in the background coughing and Estelle struggling to breathe," she said.
"Estelle was in panic mode, but was able to give me her address, the fact that it was a chip pan fire and that they were all in the bedroom."
Esteelle managed to take the pan off the stove but later found herself trapped upstairs with her two-year-old daughter and three-year-old son.
"My son was screaming, but my daughter was just sucking on her dummy," she said.
"We just couldn't get back down the stairs, the smoke was too thick, we couldn't breathe."
Seven minutes and 47 seconds later she and her children were rescued out of the upstairs window by firefighters.
Escape plan
Sandra said: "I kept her on the phone because I wanted to make sure the crew had rescued her."
In that time, as well as reassuring Estelle, Sandra told her to hang a pillow case on the door handle and another out of the window, so crews could tell which room she was in.
She added that it was rare to keep a caller on the phone throughout the rescue.
Estelle said that fire training as a child came to mind, as well as a more recent visit from fire prevention officers following a blaze at a house in the area 12 months earlier.
"They told me it was better to get the children into the back bedroom as that had the biggest window and that's what I did," she said.
"But my escape plan ended with me shutting the bedroom door. That was when I rang for help. I didn't know what else to do."
Estelle and her children have now had a chance to thank Sandra and described the meeting as "overwhelming".
"I felt so annoyed at myself [using a chip pan]. I was sitting in the ambulance thinking 'you are so stupid'," she said.