Wilfred Owen's birthplace given listed status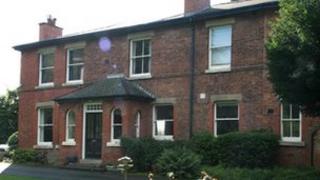 Plas Wilmot, the Shropshire birthplace of World War I poet Wilfred Owen, has been granted listed status.
Oswestry Civic Society had been campaigning for the house to be listed, saying the site had no protective status against development.
English Heritage has now granted the home grade II listed status.
It said the house, designed in the 1830s, had been granted the status on the grounds of historical and architectural interest.
The civic society went to English Heritage after an application to build seven houses in the orchard and other land within the Plas Wilmot estate was given outline planning permission.
Military Cross
Wilfred Owen was born there in March 1893.
After suffering shell shock in 1917, he was sent to recover at Craiglockhart Hospital, where he met fellow poet Siegfried Sassoon.
After this meeting he wrote his best known poems including Dulce et Decorum Est and Anthem For Doomed Youth.
On 4 November 1918 Lt Owen was killed in action near Ors, France.
He was later awarded the Military Cross for his leadership