Man inspired by sister's rescue joins fire service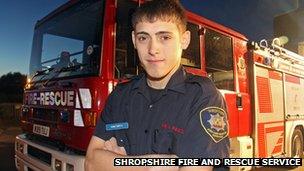 Two years after breaking his back jumping from his burning house, a man has become a retained firefighter with Shropshire Fire and Rescue Service.
Sam Smith broke his wrist and back leaping from the fourth floor of his then home in Severn Street, Shrewsbury, in July 2010.
Crews saved his sister Laura's life by carrying her out of the building.
The 20-year-old said he was inspired to join Shropshire Fire and Rescue Service "to help people, like they helped me".
Mr Smith, who was 18 years old at the time, said he had woken up and smelt burning in the early hours of 9 July.
"When I opened the [bedroom] door the smoke hit me straight away and knocked me on to the floor and within seconds I could feel the heat," he said.
He jumped to safety from a fourth-floor bedroom window, breaking his right wrist and lower back in the fall.
Mr Smith said fire crews were already outside the building by the time his sister woke up.
"She could see the smoke and knew the brigade were there so she got as low on the ground as as she could," he said.
Two firefighters went into the building and carried her to safety.
He said it took six to 10 weeks to recover from his injuries and it was soon afterwards he decided to join Shropshire Fire and Rescue Service.
"I just thought it would be a good career. No-one deserves to be in that situation and I just wanted to help people, like they helped me," he added.
Mr Smith had been concerned he would fail his medical test because of his back injury, but said "everything's healed quite perfectly".
He completed his training at the end of September and hopes to become a full-time firefighter when a position becomes available.
Mr Smith has been called out to nine incidents but has not yet attended a house fire and said he's "not too sure" how his own experiences will affect him when he is called to one.
He was due to be joined by 17 newly-trained colleagues in a passing out parade on Monday evening.
Related Internet Links
The BBC is not responsible for the content of external sites.