Muscovy drake sold at Shropshire auction for £1,500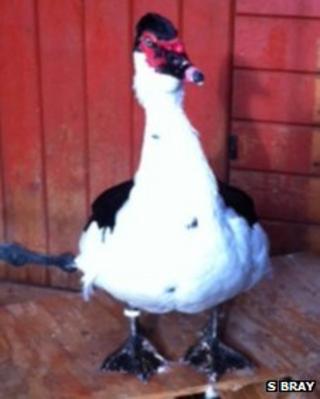 A duck has been bought at auction for £1,500 by a syndicate that gave it straight back to its owner.
Big Dave, a three-year-old Muscovy drake, was the centrepiece of breeder Graham Hicks' flock which went under the hammer in Shropshire on Sunday.
Mr Hicks, from Selattyn, reluctantly included the drake in a sale of about 1,400 ducks after giving up his hobby.
But some 50 other breeders from across the country clubbed together to ensure Mr Hicks kept his treasured duck.
Black Magpie Muscovy drakes are usually purchased for about £50, although Big Dave was expected to fetch more because of his reputation at shows across the country.
"He's been a very good friend," said Mr Hicks who has been breeding waterfowl for 36 years.
"He's been very successful around the shows and he's got a very nice temperament.
"He's always clean, he's always looked after himself and when you show him he does like to be centre of attention.
"We had a retirement sale and because he was special, people expected to see him in the sale.
"Unbeknown to me people had a collection and bought this duck and gave it back to me."
The idea for the syndicate came from fellow waterfowl breeder, and secretary of the Turkey Club UK, Janice Houghton-Wallace who said she thought Mr Hicks would be upset if he let Big Dave go.
Ms Houghton-Wallace said the drake was a "big character" and seemed to "have a great rapport with Graham".
"Big Dave was the best in show at Oswestry a fortnight before the auction and you could tell there was an element of sadness in Graham," she said.
"I thought it would be a nice idea if people could club together and buy him as a gift for Graham and within 48 hours we'd raised £500."
Mr Hicks was in the auction room when the drake was sold at the Park Hall Showground in Oswestry and had heard rumours that breeders in the Netherlands and Ireland were interested in Big Dave.
'We both sobbed'
Ms Houghton-Wallace believed the money shelled out was a UK record for a duck but was not worried about the inflated price, believing she had employed some good tactics to outsmart other bidders.
"The bids started at £400 but I came in at £900 having watched other auctions on television shows like Bargain Hunt," she continued.
"When it got to £1,500 the room went quiet and it seemed like forever before the hammer went down.
"We both sobbed on each others shoulders afterwards."