Chaplaincy volunteers sought at Shropshire hospitals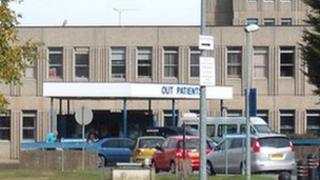 Volunteers are being sought by the Church of England to aid its chaplaincy service at two Shropshire hospitals.
The Royal Shrewsbury Hospital and the Princess Royal Hospital Telford are served by just one chaplain at present.
The Archdeacon of Salop said Shrewsbury and Telford NHS Trust cannot afford to resurrect a second post which has long been redundant following a retirement.
Those interested in helping are being invited to attend a conference that will be held in the new year.
The Venerable Paul Thomas said the Diocese of Lichfield was not in a position to fund the post because it was already financially stretched.
Archdeacon Thomas said: "Hospital chaplaincy is still a very valued ministry in the hospitals, not just for patients but the families and the staff.
"Even if we can't afford a full-time chaplain we can get volunteers who, if properly trained, could actually assist and work with him [the chaplain].
"As long as a person's got the sensitivity that's needed to get alongside people and give them the support they need then the work of the chaplaincy can be expanded.
"We're inviting people who may feel they have something to offer to come and hear more about the situation in the hospital.
"We're also looking for people who could help with the administration because when you're in two sites and you're one chaplain you need help to organise everything properly."
The conference is due to take place on 12 January at a venue to be confirmed.