West Mercia police election: PCSOs can be 'better used'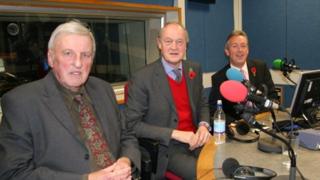 Police community support officers (PCSOs) could be better used, a candidate for the West Mercia police and crime commissioner (PCC) has said.
Speaking in a BBC Radio Shropshire debate, Labour candidate Dr Simon Murphy said there was a strong case for extending their hours.
PCSO contracts mean they currently finish work at 22:00 GMT.
All three candidates agreed that more visible, local policing was the "top priority".
The PCC is due to replace the existing police authorities across England and Wales.
After elections on 15 November, the successful candidate in West Mercia, which covers Herefordshire, Worcestershire and Shropshire, will hold the force to account, help establish priorities and set the budget.
Dr Murphy said seeing more police on patrol in communities was "far and away" the biggest issue for people he had met during the election campaign.
He acknowledged that savings targets made it challenging to put more police on the streets and PCSO vacancies had been frozen until the appointment of a PCC.
West Mercia is looking to make £30m savings from its £210m budget and has already lost about 200 officers.
Dr Murphy said: "I think there is a case for their [PCSOs] hours of working to be varied.
"I know for a fact that, let's call them charitably scallywags, in some of the areas of Telford where I've been, do know that the PCSOs finish at 10pm and that's when they come out."
Conservative candidate Adrian Blackshaw said, if he was elected, he would ensure the PCSO budget was "ring-fenced".
He added that special constables could be used "more creatively" and play a greater role, particularly in rural areas.
He said gamekeepers and others working in the rural sector should be encouraged to work as specials in a bid to cut crime.
Independent candidate Bill Longmore said the country's police force and local communities were "facing a crisis".
"I think the whole system of local policing needs to be looked at. There are ways we can get more people on the beat," he said.
"It has to be an objective we can get at least one special constable in every village."