Union anger over Royal Mail closure plans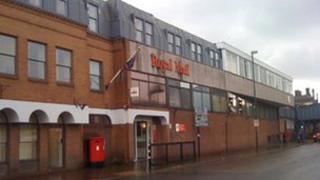 Royal Mail staff at Shrewsbury sorting office could strike over plans to close the centre, which employs 240 people, a trade union has warned.
Royal Mail has confirmed the sorting office will close in 2014.
It said it hoped to avoid compulsory redundancies, if staff were willing to be flexible in moving to other offices.
The Communication Workers Union (CWU) said it would discuss balloting members over strike action at a meeting next week.
Shropshire branch secretary Darren Jones said staff were "really angry" over plans to close Shrewsbury Mail Centre and transfer operations to offices in Chester, Cardiff and Wolverhampton.
He said the union predicted some 170 staff would face redundancy.
'Growing competition'
"The company is expecting people to take voluntary redundancy or move into deliveries as far away Chester," Mr Jones said.
"It's an unrealistic ask of people who currently work in the mail centre as we have over 90 people working in the mail centre who either cannot drive or have no access to a car."
Royal Mail said it had seen a drop in the volume of mail sent in the last six years, amid growing competition and the rise in emails.
The company said the closure, one of 11 planned by 2015, would "secure long-term employment and job security".
The delivery operation, also based at the Castle Foregate office and employing some 180 staff will not be affected, it added.
Mr Jones said the CWU had put forward its own savings proposals, which were rejected by Royal Mail.