Royal British Legion 'Battle Back' centre is opened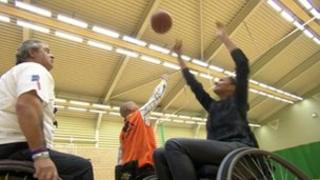 A specialist recovery centre for injured servicemen and women has officially opened in Shropshire.
The £27m Battle Back Centre, run between the Royal British Legion and the Ministry of Defence (MoD), is based in Lilleshall.
It is estimated up to 600 injured service men and women could be treated at the centre each year.
The centre has been paid for entirely by fundraising by the Royal British Legion.
The aim is to provide sports and adventure activities to help the recovery of wounded, injured and sick service personnel.
'Inspiration for us'
The legion said it would give those injured in the line of duty the confidence and self-esteem to get back into civilian life or restart their service career.
The MoD has pledged to provide the doctors, nurses, physiotherapists and other healthcare professionals needed.
Olympic gymnast Beth Tweddle officially opened the centre earlier.
She said: "These guys do put their lives on the line for our country 24/7 and they come back from battle with some injuries that are life-changing for them.
"But to know that they've got a centre like the Battle Back to come back to, I hope gives them the confidence that they can get back on track."
Vice Admiral Peter Wilkinson, president of Royal British Legion, said the centre was the legion's "biggest ever commitment" and they had known for several years that using sport and team activities could aid soldiers' recoveries.