Flood barriers go up in Shrewsbury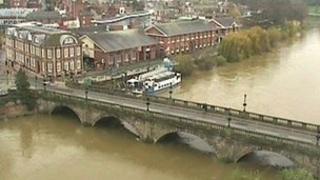 Flood barriers have been put up in Shrewsbury after river levels rose on the Severn.
Warnings for the showground and The Quarry have been downgraded by the Environment Agency (EA), but it warned of further rain through the night.
The River Severn is expected to peak overnight, although levels are not expected to be as high as in recent years, the EA said.
Gravelly Hill Lane is also expected to be affected.
Sam Barker, who farms Great Berwick Farm outside Shrewsbury, said he had been forced to move 200 sheep and 100 cattle to higher ground after floods hit part of his farm.
Shropshire Fire and Rescue Service sent one of its specialist pumping units to Weston-super-Mare to help with the clear-up in south-west England.
Almost half of all flood warnings issued across England and Wales on Monday were in the Midlands.
West Midlands Ambulance said a number of people were rescued from cars stuck in floodwater in Shropshire over the weekend.
BBC Inside Out featuring the flooding situation can be watched on the iPlayer until 3 December.