Failings highlighted in £1m Quantum Leap Darwin sculpture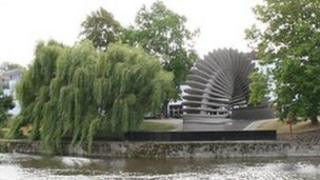 A report has highlighted failings surrounding the cost of a Shrewsbury sculpture, originally budgeted at £200,000 but costing more than £1m.
The Audit Commission looked at the costs of Quantum Leap, designed for the bicentenary of Charles Darwin's birth.
The report said Shropshire Council should have had a clearer audit trail and lists agreed recommendations.
It inherited the project from the former Shrewsbury and Atcham Borough Council in 2009.
Misaligned ribs
In summer 2009, Quantum Leap's 31 stone "ribs", each weighing three tonnes, had to be realigned to complete the arch, taking the costs higher than estimated.
It was designed by Pearce & Lal and is displayed in Mardol Quay Gardens in the town, near the River Severn.
The report, which proposes recommendations for the council to consider when working on similar projects in the future, is to be discussed by Shropshire Council's Audit Committee on 7 December.
It also said "as a result of their assessment of the specification", Shrewsbury and Atcham Borough Council did not have a quantity surveyor to review the design before the tender was awarded.
The report said "such a review may have identified the risks of additional time and increasing costs required by the challenging design of the structure."
It also details the extra costs, which include legal fees, and how they have affected the council.
Independent adjudicator
Shropshire Council had disputed responsibility for the costs incurred during the alterations and took the matter to an independent adjudicator.
The adjudicator, who made the ruling in July 2011, said the delays and additional costs were due to an "inadequate design specification" and that Shrewsbury and Atcham Borough Council was liable.
Shropshire Council then paid the contractors responsible for the sculpture an additional £410,000.
Conservative councillor Steve Charmley, cabinet member responsible for the sculpture, said: "[It's] something that Shropshire Council inherited from the former borough council, so I think in that transfer a few things have got lost and the projects weren't set out in the correct way.
"If it were a Shropshire Council project, we certainly would have gone through all the due processes and protocols which councils have to adhere to."