Shropshire to London direct rail link 'to boost business'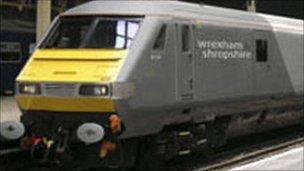 Business leaders in Shropshire have welcomed news a direct rail link with London could be reinstated next year.
Speaking in the Commons, Transport Secretary Patrick McLoughlin said Virgin could run a direct link to the capital from December 2013.
It follows a government decision to allow Virgin to continue operating the West Coast line, while new franchise bids are gathered.
Local campaigners said it would provide a boost for businesses and tourism.
Richard Sheehan, from Shropshire Chamber of Commerce, said it would make it easier for businesses to travel between the county and London.
He said it would also help Shropshire businesses win contracts and even attract new companies to the county.
"Businesses have a lot of choice where they set up across Europe and this allows us to offer the whole package," he said.
"It's difficult to quantify, but it's absolutely clear this will add value, improve the local economy and make us more competitive."
Mr Sheehan said the Telford International Centre and bigger tourist destinations could also benefit.
A previous rail link to the capital stopped operating in January 2011, with the Wrexham, Shropshire, Marylebone Railway Company blaming a fall in passenger numbers.
Mr McLoughlin said the new service, operated by Virgin, would depend on securing the track access rights and a value for money assessment.
MP for the Wrekin Mark Prichard said he was "absolutely delighted" by the news, which showed "the power of perseverance and lobbying ministers".
Fellow Conservative MP Glyn Davies, who represents Montgomeryshire, told Parliament the benefits of a direct service to Shropshire would be felt over the border too.
First Group, which had initially been awarded the franchise, had announced plans to reintroduce a direct service to the capital from 2016.
The £5bn franchise deal collapsed in October and companies bidding to run the line were reimbursed their costs, which are estimated at £40m.
An independent report, published on Thursday said there were "serious problems" and "unacceptable flaws" in the Department for Transport's tendering process.
Related Internet Links
The BBC is not responsible for the content of external sites.