Ironbridge Jiggers Bank road remains closed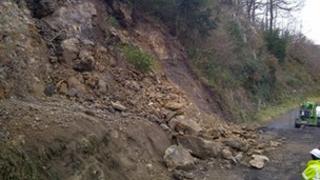 A Shropshire road is to remain closed until the new year after another landslide, Telford and Wrekin Council has said.
Jiggers Bank in Ironbridge has been closed for over a week after rocks fell onto the road following heavy rain.
The local authority said the road was covered by a further 50-tonne rock fall on Wednesday night.
A major project to secure the rock face with netting is currently being designed, the council said.
It added that unpredictable weather was making the work more difficult.
Before the latest landslide, engineers had removed about 40 tonnes of debris in a bid to stabilise the rock face.
They said the rock fall was believed to have been caused by a combination of heavy rain followed by cold temperatures.
Traffic is being diverted from Dale End via the Buildwas bypass.
The council said a shuttle bus service had also been set up from Coalbrookdale to Ironbridge to help local residents.
Jiggers Bank was closed for about two weeks in October while essential maintenance work was carried out.
The local authority said the latest landslide was along a different section of the road.