Flood warnings for River Severn in Shropshire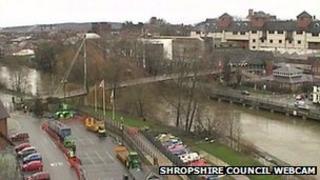 Flood warnings have been put on the River Severn in Shrewsbury as water levels continue to rise.
The Environment Agency issued the warnings for the Severn at the Showground and Quarry and said the river was expected to peak on Sunday.
Several roads, including Gravel Hill Lane and Sydney Avenue, are expected to close.
Frankwell short stay car park is shut and the long stay car park is partially shut.
Shrewsbury resident Councillor Hannah Fraser said she had seen the barriers up and the car park closed but there did not seem to be anything too dramatic to report.
"It's wetter than normal, but that's it," she said.
Flood barriers have already been put up along the River Severn in Ironbridge and are set to stay in place for the next few days.