Ironbridge flood defences to remain for a few more days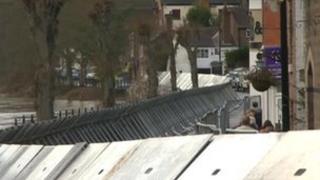 Flood defences along the River Severn at Ironbridge, put up on Christmas Eve, are expected to remain for a few more days, the Environment Agency has said.
Water levels are expected to remain high as more rain has fallen in Wales - the river's source.
Traders in Ironbridge are reminding visitors it is "business as usual" despite the barriers being up.
Claire Shaw of Queenies tearooms has started a social media campaign to keep visitors coming in to the town.
"The build up to Christmas was worse when the weather was bad but the flood risk was low," she said.
"Where as (now) people are coming down to look at the flood barriers."
Chris Bainger, from the Environment Agency, said the river levels were rising from the rain which fell in the Welsh mountains a couple of days ago.
"We are expecting the river to peak early tomorrow (Monday) morning," he said.
Flood warnings are also in place on the Severn in Shrewsbury where a number of roads and car parks have been closed.