Extra Shropshire flood defences as River Severn rises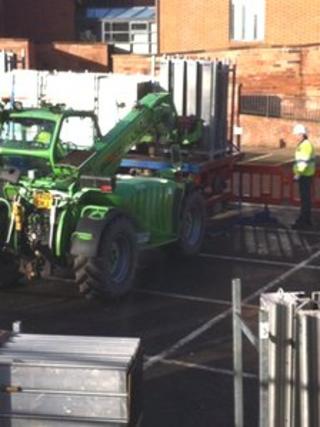 Extra flood defences are being put up at sections of the River Severn in Shropshire as levels continue to rise.
The Environment Agency said it was taking the extra measures ahead of the river's expected peak at Ironbridge on Wednesday of between 5.1m and 5.3m.
In Shrewsbury, extra defences are being put up near Theatre Severn, where the river was due to peak on Tuesday night.
Several flood warnings remain in place along the Severn, including a new one at Montford Bridge and Shrawardine.
Water levels are expected to remain high after more rain fell in Wales - the source of the river - overnight into Tuesday.
'Open for business'
Over the weekend, traders in Ironbridge had urged visitors not to be put off coming to the area.
Telford and Wrekin Council said all shops, restaurants and pubs on the Wharfage remained accessible by foot and that Ironbridge Gorge remained "very much open for business as normal".
The Environment Agency has warned that with rising river levels, some roads could be affected by flooding, including several in Shrewsbury and the town's Frankwell car park.
Flood warnings are also in place for the River Severn at the showground and The Quarry in Shrewsbury, Bridgnorth, Hampton Loade and Highley, and Quatford.
There are two warnings for the River Vyrnwy at Melverley and Maesbrook where levels are expected to peak overnight.
Across the Midlands, more than 30 flood warnings are in place, but there are no severe warnings.