Wrekin coal mine expected to close in 2013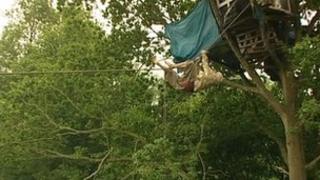 Owners of a mine at the centre of a lengthy protest campaign say operations could be completed by the end of the year - months ahead of schedule.
In October 2009 UK Coal won a 30-year battle to remove 900,000 tonnes of coal from the site near the Wrekin in Shropshire.
Up to 15 protesters, who set up a camp on site in March 2010 to disrupt operations were evicted in August 2011.
UK Coal said it hoped to start restoring the site by the end of 2013.
Trevor Hines, in charge of land rehabilitation at UK Coal, said: "Greening it up will take a matter of months, but it takes time for the landscape to mature.
"We have to get the land back into a state in which a farmer could could come back and farm the land in the way he's always done."
He said part of the land would be restored to woodland and hedgerows.
Original plans allowed UK Coal to mine the site at Huntingdon Lane until June 2014, the company said.
'Beautiful area'
The company said the opencast mine was likely to yield about 100,000 tonnes less coal than expected.
One of the local campaigners, Elaine Adams, said the operation had caused a "huge unsightly mess on what was a most beautiful area".
She said: "We weren't happy they came here in the first place, but they have been a very professional organisation that's done the operation very quickly.
"But they also have to put the site back to the beautiful, beautiful area that it was."
She said local people would judge UK Coal on the quality of the restoration of the site.
As part of the scheme a £500,000 community fund was set up by the company to direct a portion of the revenue from coal sales back to the community.
UK Coal said grants were still available for local wildlife projects.