Bridgnorth grandfather in ambulance petition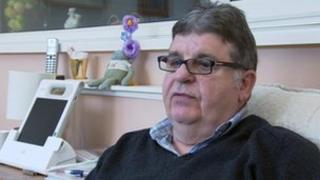 A man is campaigning for an ambulance to be reinstated to a Shropshire town after one took 41 minutes to reach his seriously-ill grandson.
Paul Passant presented a petition with 2,000 signatures to his MP calling for an ambulance to be based in Bridgnorth.
He claims an ambulance in the town would have reached six-week-old Thomas sooner when he suffered breathing difficulties last month.
West Midlands Ambulance Service said its new system was more efficient.
'Level of demand'
The family of Thomas Passant dialled 999 on 17 December. A community paramedic arrived at their Bridgnorth home about 15 minutes later and began treating Thomas.
But the baby's family say they were distressed by the further wait for the ambulance and that the baby temporarily stopped breathing during the hour's journey to hospital.
He has since had 14 hours of surgery for a blood clot on his heart and remains in hospital.
Mr Passant said: "I looked at Thomas in the intensive care unit when he crashed for the second time last Thursday and I promised that little man I will fight until I have no breath left in my body to improve services so other families don't have to suffer."
The petition has been presented to Ludlow MP Philip Dunne.
West Midlands Ambulance Service NHS Trust has re-organised its services for Shropshire so ambulances and paramedics in the county are mainly based at two hubs in Telford and Shrewsbury.
However, opponents of the "Get Ready" system say it is failing patients in more rural areas of Shropshire because ambulances have further to travel.
'Very detrimental'
The trust confirmed the callout to Thomas's home was categorised as "Red 2" requiring an eight-minute response.
"Due to the level of demand at the time of the call, every ambulance in Shropshire was committed to a patient. The control room also looked beyond the county border for available resources," a spokesman said.
A community paramedic arrived after 15 minutes and an ambulance arrived at the address from Donnington - 41 minutes after the emergency call, he said.
The trust said at the time of the call an ambulance was tending to an elderly woman in Bridgnorth who had suffered a stroke, so a dedicated "Bridgnorth ambulance" would not have been available for the baby.
In the past year the level of ambulance cover in Shropshire has increased, with the number of ambulance stations rising from nine to 15 and an increase in rapid response vehicles, it said.
"To return to a 'Bridgnorth ambulance' would in fact be very detrimental to the speed and quality of the service," the spokesman added.