Oswestry couple scoop £1m in new year lottery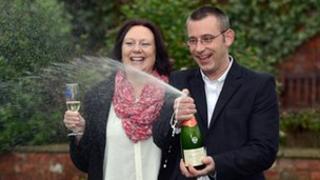 A couple from Shropshire are celebrating after winning £1m on the new year's Euromillions lottery.
Sue and James Schofield, from Rhoswiel near Oswestry, said they found out after checking the result on a mobile phone app after a meal with friends.
The pair said they intend to use the money to set up a cattery and boarding facilities for animals.
Ms Schofield, 47, a supervisor at a cleaning company, said the win was still a "shock" and "very surreal".
She said: "We were in bed. I was on Facebook and James said 'I'll just check the ticket'.
"He does it every time, he pretends we've won, so I took notice of him at all.
"Then he said 'no really' and at this point he was bouncing on the bed, so I thought 'OK'. At half past three in the morning we were still trying to take it in."
The most the couple had previously won was £2.50, but Mr Schofield, a 37-year-old delivery driver, said he had already bought another lottery ticket from the same store.
They said they would be continuing in their jobs for the time being while they assemble business plans, but would be splashing out on a few luxuries in the meantime.
Ms Schofield said despite being married for five years they had never been on a honeymoon, so a holiday would be one of the priorities, along with new cars and a new caravan.