HMP Shrewsbury closure: POA says staff face stressful time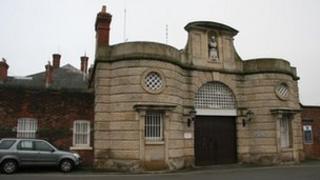 Staff at HMP Shrewsbury face a "very traumatic and stressful time", according to the Prison Officers Association (POA).
The prison is one of seven that the Ministry of Justice have said will close.
It said the plans, which also include two partial closures, would save £63m a year in running costs.
The POA said it understood HMP Shrewsbury, also known as The Dana, would close by 31 March.
The Ministry of Justice said a 2,000-capacity super prison would be built to replace those closing.
'Governor upset'
Tony Merrick from the POA said he was "confident" there would be no compulsory redundancies at The Dana.
About 190 prison staff work at the category C institution.
Norman Metters, a teacher at the prison, said: "The governor was upset, everyone was.
"By 10am everyone knew they hadn't got a job.
"The governor said they were going to try and redeploy people, but if it happens it happens I suppose."
One serving prison officer, who wished to remain anonymous, said while there had been rumours about Shrewsbury's future for a while, news of the closure on Thursday morning had come as a shock.
She said: "I've previously worked at Shrewsbury and my partner actually works there at the moment. Obviously he's going to be unemployed now come April."
"The prisoners themselves will be relocated and they will be looked after, but what about the staff?
"There are going to be job cuts across prisons that are staying open. So there aren't the jobs there to slot these officers into."
Mr Merrick said: "I think the staff at Shrewsbury have always felt vulnerable for many years with prison cutbacks and reduced budgets so I don't think it was a major shock, but nevertheless it's still a very traumatic and stressful time for the staff."
Built in 1877 by Thomas Telford and now a Grade II-listed building, the jail was originally designed to hold 170 inmates, but now has capacity for 340 prisoners.
English Heritage said a decision over the building's future was ultimately one for its owners, but that it hoped a new and sustainable use would be found.