Shropshire gritters to work as overnight temperatures fall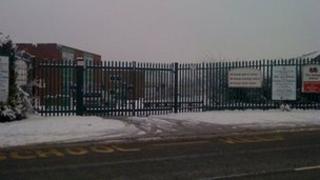 Gritters will be on standby throughout the night as temperatures fall in Shropshire, councils have said.
Telford and Wrekin Council said they expect temperatures to fall to -4C (25F), and that their gritters will be going out at 19:00 GMT.
Shropshire Council said its fleet will continue working overnight and there is an online map showing which roads have been gritted.
More than 60 Shropshire schools were shut after snow fell at the weekend.
Emergency services have repeated their warnings about icy conditions, particularly away from main roads.
West Midlands Ambulance Service advised people to "take extra care".
In Dawley, Telford, a teenager was taken to Royal Shrewsbury Hospital with a back injury after his sledge struck a scaffolding pole protruding from the snow on Sunday.
A spokesman for the ambulance service said: "We would encourage people to just take a second to think about where they are sledging and to have fun safely."
St John Ambulance said its 4x4s have been out around the county helping emergency services reach vulnerable people.
Glen Curry said: "It's been a very busy weekend since Friday, when the snow started. We're looking at getting more ambulance crews out today."
Arriva buses said delays were expected across the county, and buses were not servicing the most hazardous roads.
The ambulance service, which saw about a 20% increase in calls on Friday, said if it was not an emergency, people should consider other services, such as NHS Direct, pharmacies and walk-in GP centres.
In Coalbrookdale, neighbours worked together to clear a road after a lorry jack-knifed there. Cherry Tree Hill was closed at one stage but five neighbours spent Sunday afternoon and night clearing and gritting the road by hand.
Richard Soame said: "We've got two speed bumps that cause vehicles to spin. I saw the lorry sliding on Friday and thought it was going to go over, but luckily it stopped in time.
"This is the main access to Coalbrookdale now so we knew we had to clear the road for emergency services and so on."
The Met Office has issued a yellow warning of snow and ice for most of the UK and advised that traffic conditions may be difficult and dangerous.