Red kite shot down in Shropshire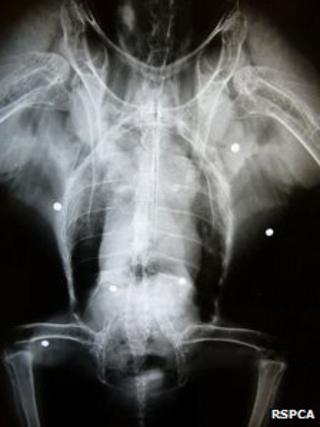 A rare bird of prey has been found shot in Shropshire.
The RSPCA is urging anyone with information about the shooting of red kite, which is currently responding to treatment, to come forward.
It was found by a member of the public at Sleap, near Harmer Hill, on Saturday after crash landing into an electric fence in a field.
The RSPCA said an X-ray revealed the bird had been "peppered" with shotgun pellets.
It also injured an eye and is currently being cared for at the Stapeley Grange Wildlife Centre, near Nantwich in Cheshire.
Centre manager Lee Stewart said: "We are all quite horrified that someone has taken a pot shot at such a beautiful bird."
He described shooting the bird as "mindless cruelty" and said red kites were offered the highest protection after being recently saved from extinction in the UK.
The RSPCA said while the bird had regained its appetite it was too early to say whether it would survive.