Harper Adams waste leak pollutes nearby rivers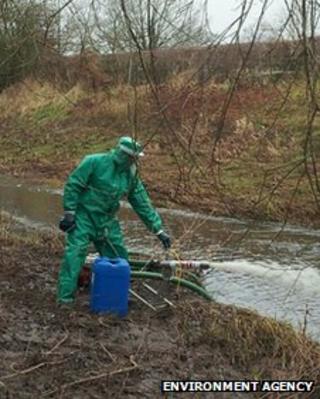 A watercourse in Shropshire is being treated by the Environment Agency after processed waste leaked into it from a nearby university.
Officers are oxygenating the water at the confluence of the Rivers Strine and Tern where ammonia levels are high, the agency said.
Harper Adams University, at Newport, said it was investigating the cause of a leak in a storage tank.
The agency said it has "not received any reports of environmental impacts".
The tank contained anaerobic digestate, a by-product of the slurrying process that can be used as fertiliser, the university said.
Vice-chancellor, Dr David Llewellyn, said: "We are actively investigating the cause of the leak but it is too early to comment further on the exact nature of the problem."
The Environment Agency said a bund that was built to contain any leaks failed and the digestate flowed in to a nearby field.
The agency said it has put temporary dams across ditches, blocked up culverts and pumped the pollution out of channels, to stop any more waste leaking into local watercourses.
Seven Trent Water removed the pollution to a nearby sewage treatment works to be processed, a spokesman added.
Harper Adams University specialises in agricultural courses and its site includes a commercial farm of approximately 500 hectares (1,200 acres).