Ludlow town walls: Homes evacuated over safety concerns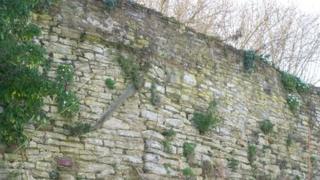 Residents have been forced to leave their homes because of concern about the safety of a town's historic walls.
A section around Ludlow which backs on to "a small number" of properties' gardens was considered unsafe, Shropshire Council said.
It advised the people in The Linney to leave their homes.
The Diocese of Hereford, which owns the section, said the entire wall was "going to have to be looked at very carefully".
Diocesan spokeswoman Anni Holden said: "If it does give way, there could be quite a landslip.
"Certainly our structural engineers are recommending that it's got beyond little bits of repairs.
"The whole wall has got to be repaired, but that of course is a very expensive operation."
'Seriously deteriorated'
The council said it spoke to residents on Friday evening and advised people to leave as a precaution while engineers assessed the situation.
An engineer who had earlier inspected the section of the wall reported that its condition had "seriously deteriorated over the past year", the authority added.
The council said there was no need for anyone else to be concerned and no immediate danger concerning any other parts of the wall.
Any other residents who may live near the wall and had not been contacted should not be concerned as the authority had informed everyone "directly impacted by this", it added
On 18 February a 33ft (10m) stretch on Upper Linney behind St Laurence's Church, gave way damaging a car and several garages.
A further section collapsed on 20 February, creating a gap of about 13ft (4m), at the rear of The Compasses pub on Corve Street.
Local councillor Rosanna Taylor-Smith said she thought three couples had left properties on Friday night and been offered temporary accommodation.
Three couples, out of 13 properties near the section of the wall, decided to stay.