Ludlow town walls: Church graveyard could be dug up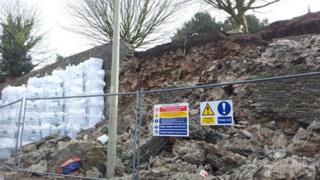 Work to repair Ludlow's crumbling town walls could involve digging up graves in a nearby churchyard, councillors have said.
Shropshire Council advised people in 13 houses along The Linney to leave their homes on Friday because a section of the wall was "unsafe".
Council engineers have said parts of the walls might need to be dismantled before any repairs can be looked at.
They said work may include digging the garden of rest at St Laurence's Church.
Councillor Martin Taylor-Smith said discussions were continuing with English Heritage and the Diocese of Hereford, which owns the section of wall, about repair work.
'Controlled dismantling'
He said: "If we do have to disturb graves there is a process we have to follow and we have to get permission from the Home Office."
Mr Taylor-Smith said three couples left properties on Friday night and were offered temporary accommodation.
Three couples decided to stay, despite the council warning.
Some of the properties are rented out as holiday lets and were empty at the time.
Shropshire Council said its engineers were still assessing the wall as to what interim maintenance work could be done.
Historic buildings manager Colin Richards said: "We're looking to see whether there's a form of controlled dismantling, which would remove the risk to the point that people could get back in their houses, but it's not going to happen overnight."
The Ludlow Town Walls Trust said it was planning to make a fresh bid to the Heritage Lottery Fund to help pay for the maintenance work.