Shropshire hit by power cuts after snow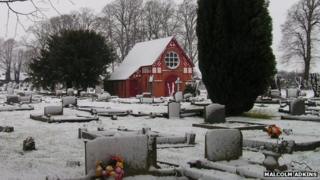 Hundreds of homes were left without electricity in Shropshire after snow.
Western Power Distribution (WPN) said 350 homes in the Telford area were without power, but this had been reduced to about 60, by 22:00 GMT.
More than 150 other households in the Market Drayton area were also still without supplies at 21:25 GMT.
The Met Office has issued an amber warning for severe weather in the West Midlands.
It has said outbreaks of rain, sleet or snow were set to continue with a risk of blizzards.
A WPN spokeswoman said earlier the weather conditions had been a "big factor" in disrupting supplies.
'Defied elements'
More than 60 schools and nurseries were shut, with others closed early.
Gobowen Primary School in Oswestry was one of those to remain open.
Head teacher Steve Conroy said he was pleased a number of pupils and their families had "defied the elements".
He said: "I'd just like to say thank you to all the parents who've really supported the school this morning.
"We're one of the very few schools open locally and 60% of the school population arrived and many had a hot lunch courtesy of our kitchen.
"We'd like to say thank you to everybody who's actually arrived, to those people who tried to come here and tried to dig themselves out.
"The kitchen staff had to come in, all the staff have come in. They've shared lifts, people have offered to walk. We've had 4x4s and all that."
Waste collections
All Tanat Valley coaches were cancelled, including school buses.
Shropshire Council said some household waste collections had been affected by the conditions.
Telford and Wrekin Council said gritters had been fitted with snowploughs in a bid to keep the roads open.
The council also said its team of volunteer snow wardens had been called into action.
The Ironbridge Gorge museums were closed and Shropshire LINK postponed its meeting at the Barnabus Centre in Shrewsbury.