Shrewsbury river safety campaign praised with no deaths since May 2012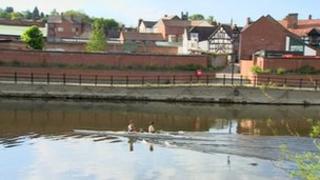 A safety campaign on the River Severn in Shrewsbury has been hailed a success after a year of no recorded deaths.
Twenty-nine people died in the town's stretch of river between 2006 and 2012, according to Shropshire Council.
Extra barriers and life buoys were installed last May and street pastors have worked to warn late-night drinkers of the dangers of being near the water.
Some people have said poor weather last year could also have contributed to the drop.
Matthew Everington, friend of Mark Hodnett, 27, who was found dead beside the river in 2011, said there were probably a number of factors involved in the success of the campaign but described it as a "step in the right direction".
Mr Everington said: "You can't fence off the river, you can't stop people from going near it, it's one of Shrewsbury's main features.
"But it is something that needs paying attention to and at night time, with people drinking, that's where we really need to be watching out.
"Nobody needs to lose a friend and I feel for his parents as well."
The Shrewsbury and Shropshire Waterways and Leisure Group has also campaigned to improve river safety and has donated more than £900 towards free swimming lessons for young people.