Georgia Williams: Minute's silence held in Wellington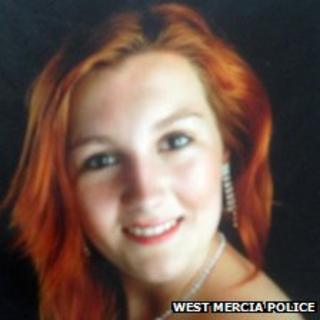 A minute's silence has been held for teenager Georgia Williams at a church in her hometown, seven days after she was last seen.
Police have not confirmed if a body found in woodland near Wrexham on Friday is that of the 17-year-old girl, from Wellington, Shropshire.
Prayers were said earlier at All Saints Church in the town.
Jamie Reynolds, 22, from Avondale Road, Wellington, appeared in court on Saturday charged with her murder.
'Touched so many'
The Rev Mark Ireland said: "I've just been amazed by the courage and strength of Georgia's friends that I've met.
"Their integrity has just I think touched so many people."
More than £600 has been raised for a memorial bench, which friends hope can be placed in Wellington.
They are hoping to raise more than £1,000.
'Something to be proud of'
On the indiegogo fundraising page, organiser Steve Millington wrote: "We are looking at erecting a memorial bench in her memory and to celebrate her wonderful life.
"This will be something that everyone that cared for her can be proud of."
AFC Telford United, where Georgia worked on match days, opened its stadium on Saturday, where more than 100 people gathered.
Speaking there, Georgia's father, Steven, a police officer, said she was "a great girl" and added: "Thank you for being in my life. God bless you."
Mr Reynolds, 22, is due to appear at Stafford Crown Court on Tuesday.
Georgia was last seen by her parents on the evening of Sunday 26 May when she told them she was going to meet friends.
Police search teams found a girl's body in woodland near Wrexham on Friday. No formal identification has been made.