Georgia Williams death: Tribute to 'enthusiastic' pupil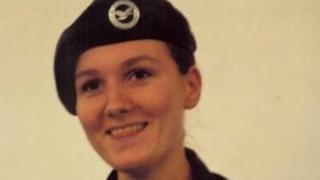 The former head teacher of a teenager whose body was found in woodland has described her as "enthusiastic and passionate".
Chay Davis, of Ercall Wood Technology College, Telford, praised 17-year-old Georgia Williams, who went missing from her Wellington home on 26 May.
Her body was found off the Nant-y-Garth pass, near Wrexham, on Friday.
Jamie Reynolds, 22, of Avondale Road, Wellington, Shropshire, has appeared in court charged with her murder.
Post-mortem tests revealed she died as a result of pressure being applied to her neck.
An enthusiastic pupil
Speaking about the former head girl, Mr Davis said: "Her passion and her focus was about taking every opportunity she could.
"Be that charity events, or her learning, or the build-a-plane project, she just threw herself into it with no hesitation, with passion.
"What I'm most proud of, and what I know she really, really enjoyed, was her work with our build-a-plane project.
"The team that have been working on that are devastated... She just is enthusiastic and passionate and enjoyed school, learning, being with people... A lovely, lovely, pupil."
The pupils at the college have been building a twin-seated RAN 6 light aircraft, which is in kit form.
Georgia's parents Steve and Lynnette Williams said in a statement on Wednesday their daughter had wanted to join the Royal Air Force and had recently started to look at qualifications that would allow her to enlist as a paramedic.
Mr Davis said it was a "very, very sad time for everybody" in the community and that "no words" could "make sense of this terrible event".
He said: "It's still early, we're all in shock, we're all trying to resolve feelings and emotions about events, but the long and short of it is that the kids here have been wonderful.
"Their first thoughts was how we could show support for the family, how we can remember Georgia."
Mr Reynolds is next due to appear at Stafford Crown Court in September.