Georgia Williams funeral held in Wellington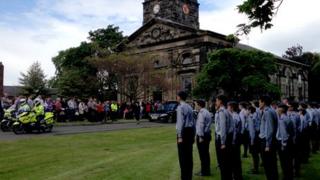 The funeral of a Shropshire teenager whose body was found in woodland, days after she went missing from her home, has been held.
The body of Georgia Williams, 17, was discovered off the Nant-y-Garth pass near Wrexham on 31 May.
Hundreds of mourners, colourfully dressed, gathered for the service at All Saints Church, Wellington.
Jamie Reynolds, 22, of Avondale Road, Wellington, Shropshire, has appeared in court charged with her murder.
'Bubbly character'
The service was filled with readings, music and tributes from family, friends and former teachers.
These included Chay Davies, head teacher of Ercall Wood Technology College, Mary Parry-Sargeant, and Flt Lt Philippa Bartlett, Officer Commanding 1130 Air Cadet Squadron.
Mr Davies thanked Georgia for what she gave to the community and said that her "passion and her genuine willingness to help others shone through".
Flt Lt Bartlett remembered Georgia, who spent four years with the air cadet squadron, as a "genuine and bubbly character".
Georgia's father, Stephen Williams, also read out a poem which was a tribute from her friends.
It ended with the line, "God now has you in his keeping Georgia, but we all have you in our hearts."
One of her friends, 17-year-old Dan Crossley from Telford, performed a song that he wrote while she was still missing.
Georgia's Song, which has had over 14,000 hits on YouTube, was received with a round of applause.
There was more applause when Georgia's coffin was brought outside after the service.
Reverend Mark Ireland, vicar of All Saints Church, said he prayed it would be "a source of hope and comfort" for those who attended.
He spoke to the "great crowd" that had turned out at the church and en-route.
Those gathered outside were able to listen to the service through speakers.
Mr Ireland said: "[It] brings a clear message to Stephen and Lynnette and Scarlett and the family - you are not alone.
"You are not alone in bearing this loss. We cannot stand in your shoes, because we have not lost what you have lost, but we can stand next to you, and we will do so, not only today but in the months and years ahead."
Ahead of the funeral, Georgia's friend, Katy Lafferty, said: "She wouldn't want us to all be there wearing black and being depressed.
"She'd want us to be wearing happy colours and to be an event that portrays her well.
"Her favourite colour's orange, so it's a bright colour, so she'd want us to all be the same."
A trust fund has been established to "create a legacy and celebrate Georgia's life".
Her father, Stephen Williams, said the setting up of a trust was "very much what we as a family want to see happen".