Telford loss of water supply: Hot weather blamed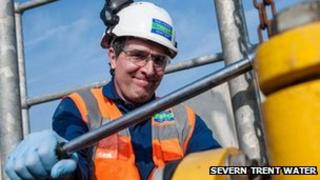 Sunshine has been blamed for water supply problems to about 3,000 Telford homes and businesses.
Severn Trent Water said the loss of supply and problems with low pressure were caused by "hot weather demand" and distribution issues.
The company received almost 300 telephone calls reporting problems on Tuesday night.
Some properties were without water for more than eight hours and a spokesman has apologised to customers affected.
'Peak in demand'
Areas affected included Dawley, Ketley, Ketley Bank, Lawley, Malinslee, Old Park and The Rock.
Rob Salmon, from Severn Trent Water, said: "The problems were caused by network distribution issues and the high demand we're experiencing from the heatwave.
"The sun's shining so everyone's out washing the car, watering the garden, using paddling pools, it's a huge peak in demand basically."
'Splash the water'
He said residents in the Dawley Bank area of Telford might continue to experience problems late into Wednesday.
Surg Singh, who runs a shop in Ketley Bank, said: "The water went off for a long time, sometime late afternoon I think though luckily we don't use much water in the shop."
Severn Trent Water is not anticipating a hosepipe ban or similar water restrictions, though it has said it needs to "manage the situation very carefully".
Mr Salmon said: "We're asking customers to save water, although it's tempting to splash the water when it gets hot, we do need to be responsible with water all year round and particularly now."
Lileshall Primary School, to the north of Telford, is closed due to water problems not believed to be connected to the wider Telford supply issues.